PACKMULE Stock Chasers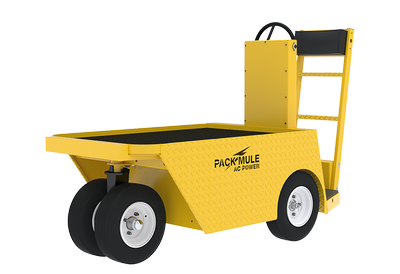 PACK MULE's NXG Stock Chasers are versatile utility vehicles capable of delivering needed materials through cramped aisles and tight corners. With an integrated ladder, adjustable backrest, and comfort matting standard features, the NXG Stock Chaser offers a superior solution to increase productivity in any warehouse or facility.
Tightest Turning Radius in the Industry
Industry Leading Batteries: 245 Amp/hour
Industry Leading Warranty: 3 Year, No Hour Limit
Best Value Across All Competitive Brands
SC-775 NXG SERIES - TIGHTEST TURNING RADIUS
The 775 Series for manufacturing plants with limited space, turning radius is tight and maneuverability is a priority.
SC-775 NXG
1000 LB Deck Capacity 2000 LB Tow Capacity
SCT-7750 NXG
1200 LB Deck Capacity 5000 LB Tow Capacity
SC-850 MAXIMIZED DECK SPACE & WEIGHT CAPACITY
A larger version of the SC-775, featuring a longer cargo deck and up to 5,000 LB towing.
SC-850 NXG
1000 LB Deck Capacity 2000 LB Tow Capacity
SCT-8500 NXG
1200 LB Deck Capacity 5000 LB