home > brands > unicarriers
UNICARRIERS WSX30-WSX40S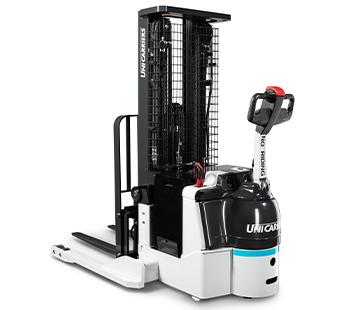 With lift heights of up to 18 feet and fluid, virtually effortless maneuverability — all of the performance you're looking for comes together in an electric walkie stacker forklift that's intuitive to operate, easy to maintain and economical to purchase.
Reach Higher
217 inches (18 feet) lift height is among the highest in the industry — sized just right for two and three shelf racking.
Turn Better
Stability that from the WSX model's wide wheelbase and tight turning radius.
WSX-WALKIE STRADDLE STACKER MODELS

| Spec | WSX30 | WSX40 |
| --- | --- | --- |
| Capacity | 3000 lb | 4000 lb |
| Turn Radius | 67.7 in | 72.4 in |
| Max Fork Height | 152 in | 152 in |
WCX-WALKIE COUNTERBALANCE STACKER MODELS

| Spec | WCX30 | WCX40 |
| --- | --- | --- |
| Capacity | 3000 lb | 4000 lb |
| Turn Radius | 39.4 in | 69.4 in |
| Max Fork Height | 152 in | 152in |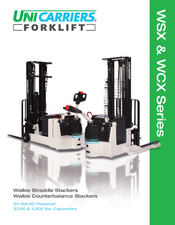 Download Product Brochure