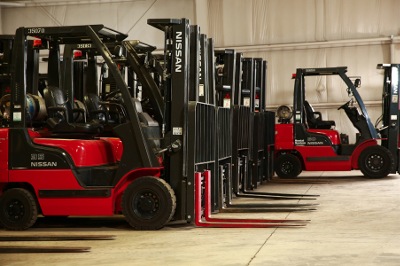 Renting equipment is an excellent option for managing seasonal or sporadic workloads, and allows you to up your capacity quickly, easily and inexpensively. We have one of the largest fleets of rental equipment, ranging from pallet jacks and stackers to 30,000 lb. forklifts, for use indoors, outdoors or both. We can cover all of your short and long term rental equipment needs.
Why you should rent?
Supply short term projects and needs
Quick spin-up of capacity
Seasonal requirement
Manage unplanned workloads and emergencies
Keep a budget in check
Keep capital expenses down and deduct expenses based on need
No need to store equipment that you don't need all the time
Our Rental Fleet
Our rental fleet is kept up to date with late model and maintenance from our certified technicians. Every rental truck is inspected and ready to work when it reaches your location.
Electric Pallet Jacks
Electric Walk Behind Stackers
3,000-30,000 lb. Cushion Tire Forklifts
3,000-10,000 lb. Pneumatic Tire Forklifts
Rough Terrain Forklifts
Scissor Lifts
Tuggers
More
If you don't see what you need, let us know - we can get it.
The Benefits of Renting a Forklift
700+ truck fleet at your disposal
Late model equipment, lightly used and with low operating hours
Includes full maintenance of equipment by our technicians
Delivery and pick-up included
Customizable rental term day/week/month/seasonal and rent to own
Including batteries and chargers
100% expensible rates for tax
Why Rent from Forklifts of Michigan? Rental Advantage
The Forklift of Michigan Rental advantage means that your rental will receive automatic rate adjustments. If you start out a daily rental with a higher rate, but find that your need has extended beyond a week, your rate will be adjusted to the weekly rate. That, on top of our already great day/week/month and seasonal rates!
Read our article What to know about Renting a Forklift