Pack Mule Electric Vehicles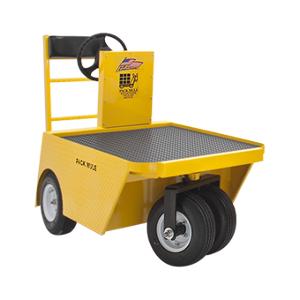 The Pack Mule NXG is a new class of electric utility vehicle unmatched by any other manufacturer. Some standard features on the NXG, such as A/C power, are available with manufacturers at extra cost, and some aren't available from them at all.
Here's what puts the Pack Mule NXG in a class by itself.
More Runtime: A/C power, dual stage regenerative braking, 245 A/H batteries, and low-friction tires.
Smarter: Regenerative charging and safety features reduce risk and keep you at peak performance.
Easy maintenance: Sealed brush-less motor, bearings and trans-axle, and a contact-free potentiometer.
3 Year Warranty, unlimited hours, covering labor, materials and freight. PackMule Warranty Details
Durable: Fully welded 14-gauge diamond plated construction and 6-ply, Load Range C tires.