What you need to know about forks for your lift truck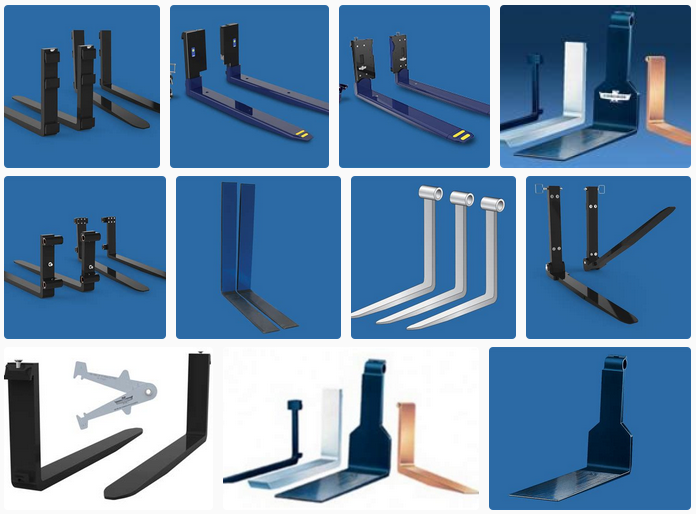 Assumptions and mistakes are often made when it comes to the forks on your lift truck. Forks are the first and last thing to touch your products and materials and can often be the difference in safe and efficient handling and unstable loads and damaged product.
Here are some quick facts:
There are (4) classes of forks that have unique mounting dimensions and capacity
Class I

Hanger inside dimension = 13.03"
Capacity less than 2,000lbs

Class II

Hanger inside dimension = 16.00" – most common!
Capacity = 2,000lbs to 5,500lbs

Class III

Hanger inside dimension = 20.00"
Capacity = 5,501 - 11,000lbs

Class IV

Hanger inside dimension = 25.00"
Capacity = 11,000 - 17,500lbs
Fork Tips and Taper can vary as well. Tips can be angled or blunt. Taper options include a standard where the forward-facing 50% of the fork is angled towards the tip as well as full-taper and polished forks with a thinner profile and smooth face-surface to slide into loads such as corrugated, lumber, sheet stock, and drywall more easily.
Tip and Taper combinations are available across all the fork classes.
Here are some common things that can go wrong:
Forks that are too short don't properly support the extent of the load and can lead to broken pallets and damaged product
Forks that are too narrow decrease lateral stability and can lead to product tipping side to side
Forks that are too long can extend beyond the pallet or load and lead to significant property damage or worse - employee injuries!
Forks with the wrong tip-taper can damage product at entry or make backing out of the load challenging
Forks that are too thin can bend, or worse break! A standard Class II fork can be commonly 1.4" up to 1.7" thick when they are brand new.
Fork hanger welds can fatigue and crack from operators pushing product on the floor leading to product damage or employee injury
Fork locking pins are often missing or not-functional allowing the forks to slide on the carriage, move under the load, or come loose from the carriage altogether.
O.S.H.A. is a great resource to best understand what fork conditions should be. Potential Hazards can include:
Surface cracks
Blade or shank are not straight
Fork angle from blade to shank is not straight
Difference in height of fork tips
Positioning lock not in working order
Fork blade or shank wear
Fork hooks wear
Fork marking not legible
Per O.S.H.A., a fork that shows any of these defects shall be withdrawn from service and discarded or properly repaired.
On a new standard pallet fork the shank and heel are the same thickness. The most common factor in fork replacements is wear to the heel of the fork. This occurs from day-to-day operation and friction between the floor and the fork. Over time, the fork wears away and the structural integrity is diminished - a worn fork won't hold the load the forklift is rated to lift and product damage and serious injury can occur. Fork-wear calipers used to help identify (specifically) items 2, 3, 4, and 6.
Terms:
Blade - the level part of the fork that supports the load
Heel -  the curved part of the fork that connects the blade to the shank.
Tip - the end of the fork blade.
Positioning Lock Device - for proper positioning of the fork on the fork carriage.
Additional Fork Types
Shaft Type Forks
Shaft forks are special order items ordered according to customer specifications

Block Forks - for bricks and blocks.

Folding Forks - allow forklifts to maneuver in confined spaces.

Carpet Poles - handle carpet rolls.

Coil Handling Forks - have a contoured to blade to keep coils in place

Lumber and Plywood Forks 
 
Spark Retardant Forks - designed for use in hazardous environments to reduce fire risk

Tire and Drum Handling
Don't assume your forks are safe.
Our Technicians and Account Managers are trained on properly using the calipers to do a thorough evaluation on forks. The measurements are used to identify wear and deflection.
Don't assume you've got the right forks.
We want to understand your specific application to make the best recommendation for proper fork selection.
Don't waste your money
Save during the annual Forklifts of Michigan Fork Sale in July!
At Forklifts of Michigan, we encourage you to Expect More. Contact us today to schedule your free and comprehensive evaluation. https://www.forkliftsmi.com/contact/
We look forward to working with you!
Tags: forks

by
FM Staff
, published
Thursday, July 16, 2020
updated
2023-01-20 16:16:01