Introducing the FactoryCat GTR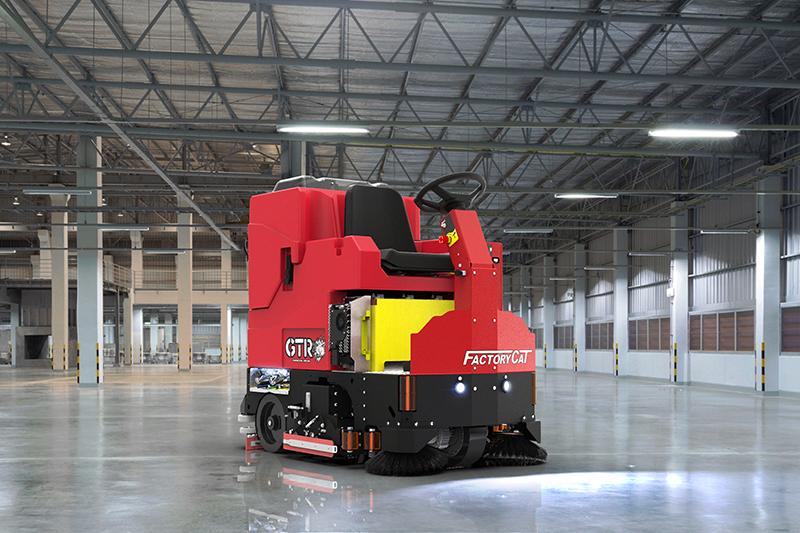 FactoryCat's GTR Rider Floor Scrubber Dryer is known for its simple design and durable construction, offering unmatched value for the customer. The GTR Floor Scrubber Dryer comes equipped with a powerful front-wheel drive for climbing ramps and max operator ease.
While keeping with the constant durability that FactoryCat machines have to offer, your operators will find the GTR Floor Scrubber Dryer easy to maneuver and simple to service. The deck is protected by the steel frame and large polyurethane rollers to keep the unit from marking walls.
Features
Machine Control Panel uses off-theshelf toggle and marine duty switches featuring universal icons which simplifies training.
Vacuum Muffler allows machine to consistently achieve as low as 70 dBA while thoroughly drying the floor.
Squeegee Adjustments made simple tool-less maintenance of the squeegee blade.
Fill System features a retractable hose for easy filling on standard sink-faucets and a stainless screen for bucket filling.
Oversized Vacuum Screen Shut-Off quickly arrests overfill issues to protect the Vacuum Motor.
High Performance motors
Ideal for:
Fabrication Shops • Warehouses • Machine Shops • Automotive Shops • Aviation • Food Packaging
• Beverage Distribution • Sports Arenas
Tags: factorycat gtr

by
FM Staff
, published
Tuesday, May 01, 2018
updated
2023-01-20 15:57:50